Around The World On A Vespa – Markus André Mayer
Unique travellers are taking the world by storm, with innovative ways of scouring the world, in attempts to cut down on their carbon footprint (by lowering the number of planes taken), and to take a slower, more enjoyable route; after all, the journey is more important than the destination. From bicycles to hikes to motorbikes and two-wheeled vehicles, people around the world are looking for ways to make their travels more interesting and more challenging. Each trip is worth the story it creates, and each traveller now has the ability to take their story to a more global platform, raising awareness on a number of key ecological and environmental issues through their travels. 
La Vida Vespa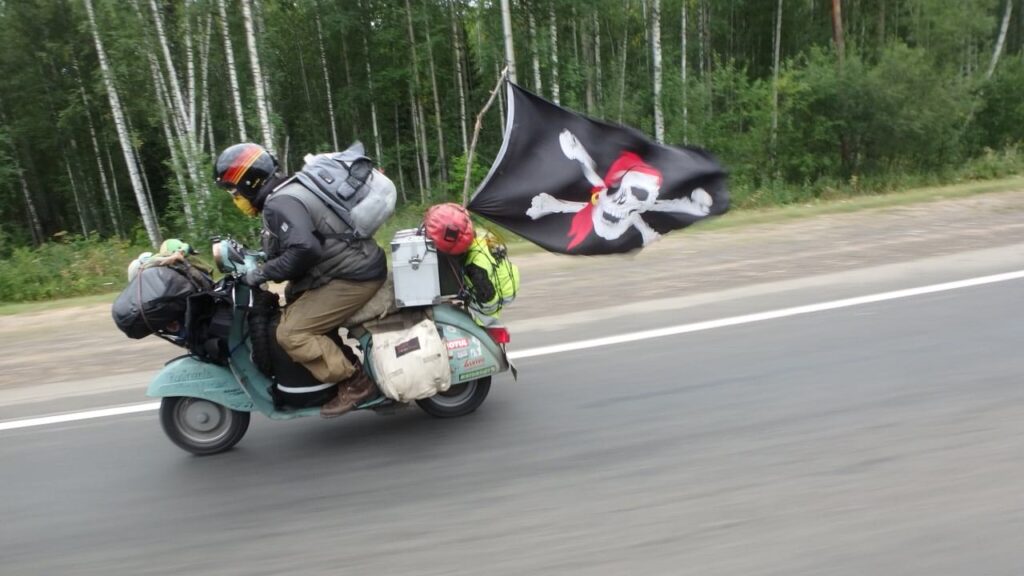 Markus André Mayer is one such traveller, and has started an epic tradition of going on long road trips aboard the classic retro vehicle – the Vespa. His journeys first began in 2009, when he visited friends across Europe while riding the Vespa P200E from 1979, cutely named Madalina. Starting in South Germany, the journey lasted for 130 days, where he visited 31 countries in Europe, Gibraltar, and Morocco, essentially covering over 22,000 kilometres across two continents. "The general idea of travelling with a Vespa came up during my teenage years," Markus shared. "I saw a lot of the old romantic black and white movies, like Roman Holiday with Gregoy Peck, and I dreamed of bringing my girlfriend to Capri on a romantic trip one day. Funnily enough, the dream persevered, though the girlfriend did not," he joked.
For Markus, the Vespa is a harking to an older, simpler way of life, and his continued use of the scooter is far more emotional and sentimental, making these journeys all the more important for him. "I wanted to take the Vespa with me, as this was the first means of transport that I used, and it was the only way I had to see my first girlfriend, so I have a lot of sentimental feelings tied to the Vespa. It makes me feel like a teenager again," he added. "The best part is, it takes the speed out of travel, and makes it an experience for all the senses, since you're really able to see and smell and feel things more intensely, when you travel on two wheels."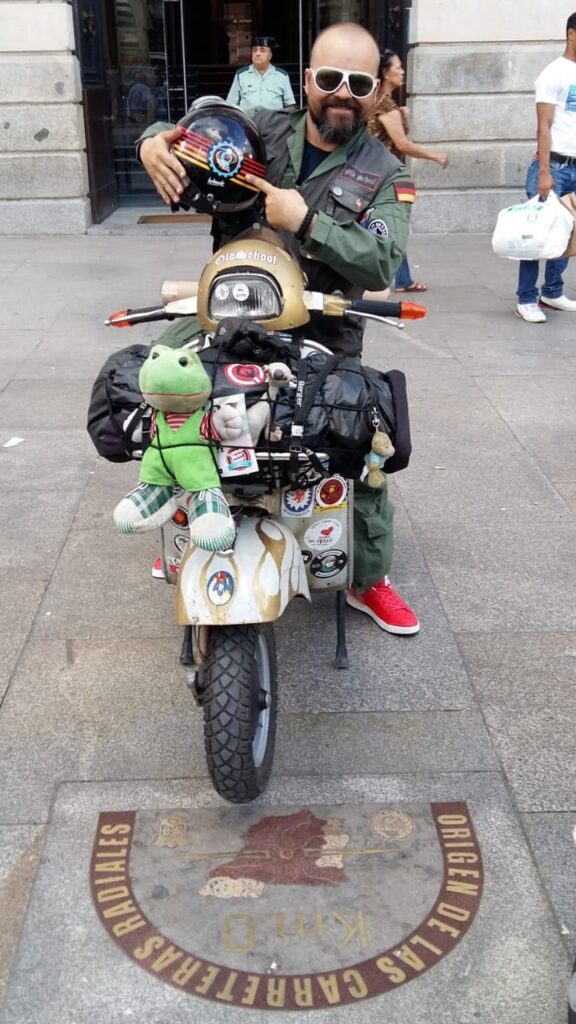 Since his first trip in 2014, this has become a way of life for Markus André Mayer, and he goes on a road trip every year, with one monumental trip occurring in 2017, when he crossed the United States from coast to coast on a Stella 150 2T, covering over 10,000 kilometres and crossing 20 states. In 2018, he prepped for the biggest journey so far – to go on a round-the-world trip, aboard the Vespa. 
He's documented his many journeys as well, on his blog, www.la-vida-vespa.com, from his first journey back in 2009, to the round-the-world trip that occurred two years ago. "I appreciate every 'like' because it helps me attract sponsors for future trips," he mentioned in previous posts about earlier trips. The aim is to document his entire journey, and if visitors are entertained by his stories, then that's an added benefit. He's recorded his adventures on his Facebook page (with the same name) as well, and looks to continue his blog with more fun adventures in the future. 
Around the World in 80 Days 
The trip took place in 2018, from June to September. Having prepared for the trip for over three years, Markus ensured to pack enough fuel and spare tires, as most of his journey would take place on rough, isolated paths that would not be able to handle a scooter very well. The journey began in Spain, at the Plaza del Sol in Madrid, and follows the coast of the Mediterranean, and he rode from Slovenia to Athens. In Athens, the trip continued to Istanbul, where, unfortunately, Markus suffered some motor damage and underwent a three-day delay, before continuing towards Georgia along the black sea, before crossing the Caspian Sea towards Kazakhstan. From Aktau (in Kazakhstan), he rode over 1,500 kilometres towards Russia, to follow the border of Mongolia till he arrived at Vladivostok. "I put Rosinante (the scooter) on a truck towards Moscow and hopped on a ferry to South Korea, crossed the country by bus, and flew from Incheon Airport over Hawaii to San Diego, where Betty, my second scooter, was waiting for me," he added. This was the same scooter that had travelled over 10,000 kilometers in 2017, taking him from coast to coast, during the Vespa Motorsports in San Diego. The trip continued with him taking Highway 1 towards San Francisco, and then once again crossing the United States towards Virginia Beach, before jumping on a plane headed towards Amsterdam. "My friend Brechtje was kind enough to host the third scooter in her bike room, and I raced towards Spain with stops in Belgium and France," he detailed. After spending a few days with friends in Pamplona and Valladolid, the grand trip ended with him rolling in with a police escort and a TV crew onto the Plaza del Sol, right where he started back in June, after exactly 80 days.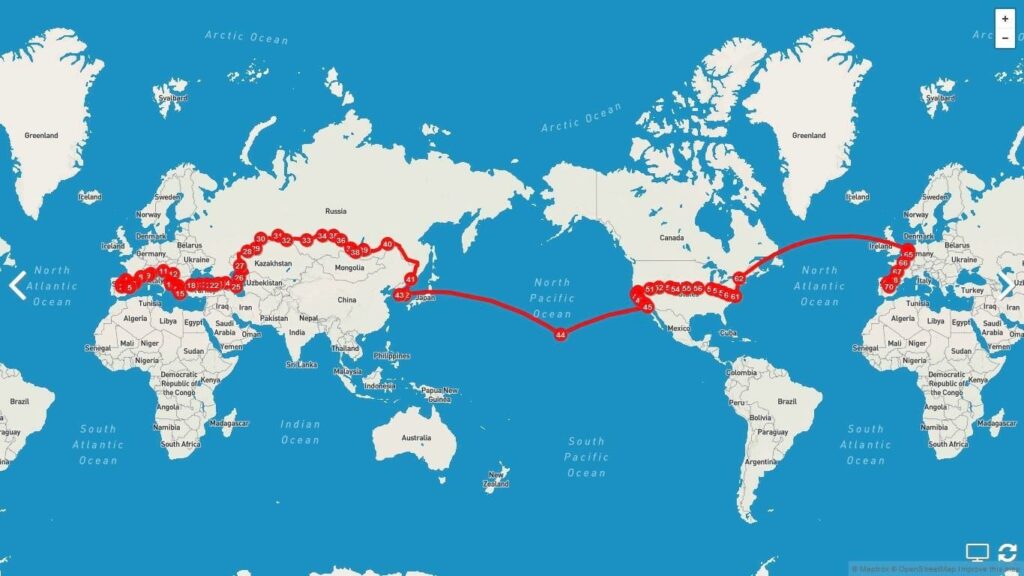 A typical day during this trip was quite rushed, in an attempt to finish the entire journey within the strict time limit. "I did not spend a lot of time exploring the countries themselves, because I had to rush through, riding from morning till sunset, which was often around 12 to 16 hours a day. Usually, I like to take it slowly; for example, my trip in Europe of 32 countries took 130 days," he added. For him, these trips are more pleasurable as he gets to enjoy the actual ride, while still partake in local cuisine and get to know the local population. "I generally don't go for sightseeing, because the people are more interesting than the tourist-y sights," he said. 
The ups and downs of solo travelling
Though the trip was a huge success, and Markus enjoys travelling alone, there are a few ups and downs to solo travelling, especially when undertaking longer, more arduous journeys. "For the trip, I made sure to have enough extra fuel and spare tires, as a lot of my trip led me through territories that were very isolated, or were not suitable for Vespas. Nevertheless, I was stranded twice – once in the desert of Kazakhstan, and once in Utah. At that time, you make sure you use your extra water wisely, and wait till someone else stops, which can take hours in the desert," he warned.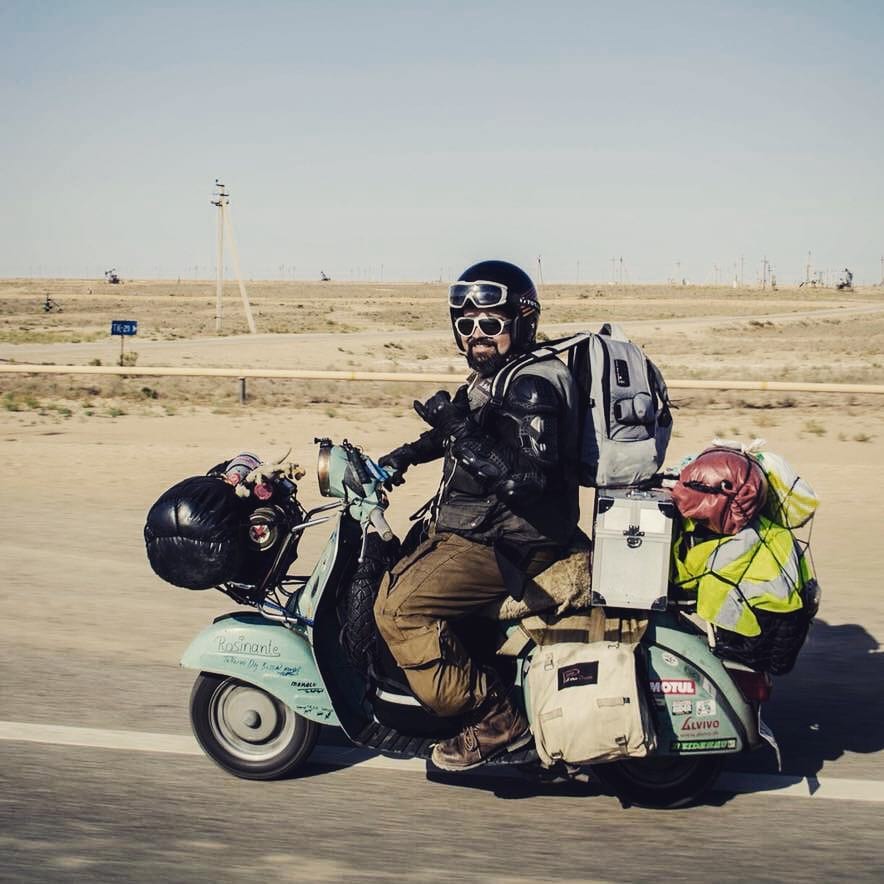 Another concern is that of health, especially while travelling alone. "As I had some prior experiences and special military training, I knew what medical equipment and medicine I had to take with me, as I prepared and executed the trip all by myself. In the end, I did have an accident, and I got sick, and I had no choice but to endure the pain with plenty of painkillers, to keep on riding and fulfil my dream," he added. 
One pleasant surprise that he's always had during his travels is the fact that personal security was almost never an issue, thanks to the fact that almost everyone he met was kind and hospitable, and he tried to keep an open mind about the places he visited, to further enrich his travels. "A lot of people ask me if I felt safe, but from my experience, the world really is a good place, with many good, helpful, and hospitable people living in it," he added. 
Another challenge that was raised by the Vespa was one of comfort. "If you enter the desert on a Vespa alone, it is very liberating, and the solitude is blissful, but if you get in trouble in such areas, it can be quite dangerous. Motivating yourself when your motor is bad, or if you are sick and injured, can be quite difficult, especially because I was under a time crunch to finish the journey in 80 days. Thanks to this time limit, I had to ride around 400 kilometres on average every day, and at some point, your whole body hurts, and a bit later, it becomes fully numb," he added. Personal comfort here becomes of utmost importance, especially when most of your day is spent in one position, riding a small scooter.  
The Vespa, however, did grant many pleasures, and he enjoyed his trip. "Travelling fully loaded on a scooter is something different, and people are very friendly and very curious, which makes it easier to get in touch with the locals. When people look at the packed Vespa, many smile or even laugh, and they want to know what the crazy guy with the foreign number plate is doing on the overloaded Italian vehicle in the desert on the other side of the planet," he said laughingly. Thanks to his open nature, Markus was quite comfortable interacting with strangers, and viewed his challenges with an open mind, making the trip more interesting and more enjoyable.
Plans for the future 
Despite travelling over many continents, Markus continues to look forward to more trips in the future. "I have to relax my bank account situation first," he joked. "I want to tackle the last missing continents, Oceania and South America, and the goal is to either cross them or surround them," he added. When it comes to planning for such a major trip, he emphasises the importance of flexibility. "It's important to prepare yourself well, but don't plan a concrete route – this way, you enjoy the most of the trip," he advised.

Despite facing many challenges while riding alone, Markus fully enjoyed his trips, in part to the feeling of independence and unique bliss that comes with solitude, with learning to conquer such challenges alone. Apart from this, solo travelling also encourages you to meet new people, and interact with the local population in a way that wouldn't happen if you travelled in a group. Getting to know the local population is a driving factor for many solo travellers, as most people are kind, friendly, and hospitable, further highlighting their journey. Many solo travellers encourage solo trips as a way of stepping out of your comfort zone and truly experiencing a new country, a new culture. With this trip, Markus is able to offer new insights into the realm of solo travelling, and has made innovative travelling that much more accessible.  
---
This disclaimer informs readers that the views, thoughts, and opinions expressed in the text belong solely to the author, and not necessarily to the author's employer, organization, committee or other group or individual. We take no liability for the accuracy of the information and cannot be held liable for any third-party claims or losses of any damages.
This disclaimer informs readers that the views, thoughts, and opinions expressed in the text belong solely to the author, and not necessarily to the author's employer, organization, committee or other group or individual. We take no liability for the accuracy of the information and cannot be held liable for any third-party claims or losses of any damages.