Egypt's Siwa Oasis: Where History, Natural Therapy and Culture Unite
My motherland, Egypt, is home to a priceless amount of breathtaking views and memories that will last a lifetime. Of the many gems this country beholds, the Siwa Oasis, a beautiful urban oasis sprouting in the middle of the Western Desert, is one of my favorites.
Popular for its breathtaking oasis scenery, super hospitable locals and environmentally-friendly culture, Siwa has been crowned the Land of Salt due to the Oasis' iconic Salt Lakes, of which salt is used for everything. Everything. From building their houses and work tools to the products they export, including beauty products and spa treatments and their gorgeous handcrafts (more on that below!)
Central Siwa, known for homing the historic Shali Fortress – is where your ecolodge or preferred accommodation would probably be located (unless you'd rather camp under the stars), and is surrounded by shops, various methods of transportation (from donkeys to rickshaws to the occasional generous motorbike rider going your desired direction).
Siwa is one of Egypt's hippest hotspots, attracting travelers from all over the world – so Siwans have been fairly exposed and you won't find trouble using English as a common language, next to Arabic being Egypt's first. They have also managed to preserve their conservative culture, so although it's completely fine to wear swimwear and shorts when appropriate, swimming and sand-boarding for example, it's preferred that when in town or around locals that both genders don't dress too revealing or show too much skin, out of respect.
Also, it's basically desert weather – meaning hot mornings and cold nights all year round, and exceptionally cold nights in winter months November-February.
The 13th-century fortress, that had once hosted hundreds of people until its fall to three days of heavy rain in 1926, despite many an invader's attempt, still stands today and offers a spectacular viewpoint of the Oasis for travelers and locals alike. It is also entirely built using mud-brick 'kershef', which are chunks of salt (mhm) from the iconic Siwa Salt Lakes, mixed with rock and plastered in local clay.
Siwa is also home to the Siwan Berbers, originating from the North African Berber Bedouin tribes known as Amazigh, of which have caught the attention of many an Egyptian artist in hopes to preserve the authentic culture, language and tradition.
Interesting fact: The Ancient Egyptian name given to the oasis was Sekht-am, meaning 'palm lands' because of the vast palm landscapes it's home to, which gave way to the hosting of the annual Date Festival, inviting thousands of people from all around in celebration of the harvest.
How to Get There
Roadtrip
Located between the Qattara Depression and the Great Sand Sea, it's approximately a 9-hour-drive if you go through Alexandria, El Alamein and Marsa Matrouh from Cairo and can make for a nice multi-stop road-trip along the whole North Coast and some of Egypt's best beaches on the Mediterranean Sea.
Another possible route, and mostly used by the Superjet buses adds two hours to the journey and goes through Bahariya Oasis and the Western Desert, so you'll be laid back watching the dunes come slowly to light with the sunrise (because it's a smarter idea to spend the road overnight).
Public Transportation
The West & Mid Delta Bus Company (click to learn more) run a daily service to and fro Cairo-Siwa, and the direct trip ticket costs around EGP 60 (as of Jan'20), leaving Cairo 8PM arriving in Siwa 6AM.
Of course there's always the option of renting your own private bus to carry you and your party, but I'm speaking mainly out of a budget traveler's point of view here.
Disclaimer: you'll probably need to financially compensate for the organization of some trips or the mere transportation to some of the destinations mentioned below. But good news is, it'll be the hassle-free option to have your local guides do their jobs best, and it's as easy as just asking them to take you!
So, without further ado, here are the selected few can't-miss activities I can personally attest to being worthy of your time and money.
All of the following suggestions come from what I've been exposed to and have experienced first-hand thanks to my lovely guides at Siwa Shali Lodge, where I stayed.
What To Do in Siwa
Get your adrenaline on in the Great Sand Sea: sand-boarding, camping, 4×4 safari – you name it!
There's a certain zen when it comes to the desert, and each desert, believe it or not, has its own spirit, personality, feel to it.
Siwa's Great Sand Sea is that of an aged, wise, beautiful woman with glowing golden locks of hair that turn silver with the moonshine, and who will embrace your inner child and play with you, even. Mountains of soft sand welcoming you with open arms, and you have the choices of sand-boarding, going on a 4×4 safari surfing the dunes, and spending the night camping out.
Spanning over 72,000 sq. km, and lining Siwa, this Great Sand Sea is marked as the world's third-largest dune field. Having been under the Mediterranean sea in the past, it still holds remnants of underwater life and literally looks like a sea of sand, and is also home to many natural spring spots, one of which is Bir Wahed.
If you decide to skip accommodation and spend your trip camping under a million stars, I recommend Dunes Camp – they'll take care of the other activities too.
Treat yourself with a natural spa day out at the Bir Wahed Natural Springs..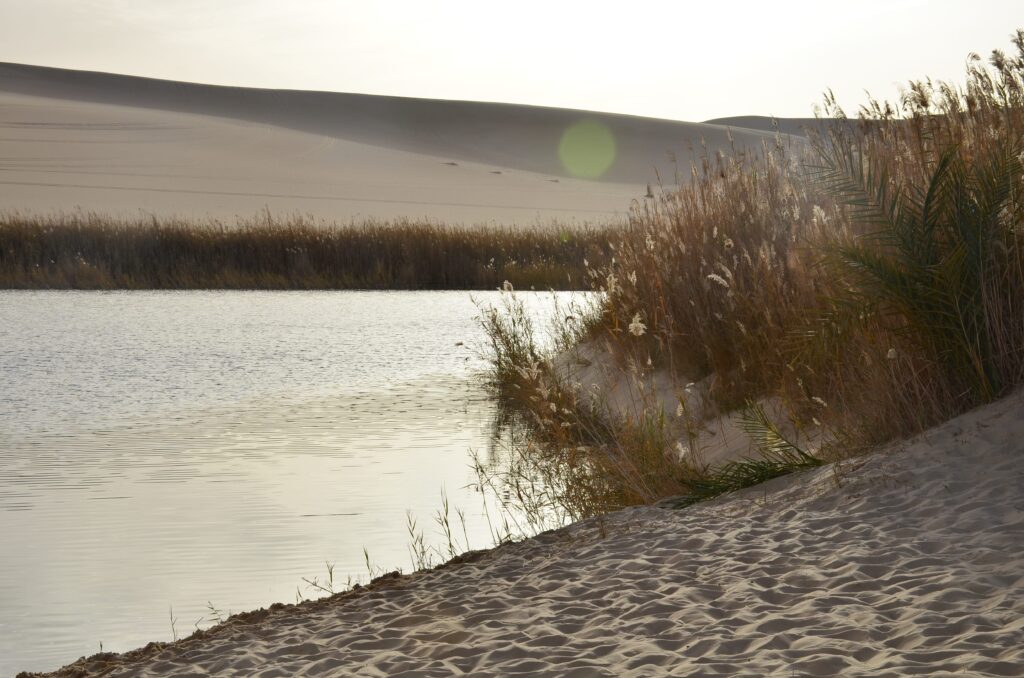 According to the locals, Russia was invited to drill for oil in the desert in the late 60's and instead accidentally discovered the hot and cold water springs of Bir Wahed. Sprouting peacefully in the midst of the Great Sand Sea, only kilometers apart. The mere activity of taking a dip in naturally-formed hot springs and followed by a swim in a freshwater, cool pool on a hot day has brought people from all over the world to the Oasis; it's natural, free therapy, really.
Catch the sunset by the Fetnas Lake..
By far, this freshwater lake, arguably Siwa's most popular, is and will forever be cherished in my memory for some of the most beautiful sunsets I've seen in my 23 years of living, 20 of them exploring. I went back a couple of times, despite a tightly-packed schedule, just because I fell in love with the sunset; no wonder its nicknamed 'Fantasy Island'.

Reality check: it's not always as Instagram will make it out to be. This is the side travel bloggers wouldn't usually show you. But it's also not where I got some of my best shots – the pier, crowded with tourists all huddled up and waiting for the cliche, generic "Siwan sunset" shot.
Have a tea, smoke some shisha with the locals on the island..
And, tip: stay till dark – or as long as you can, because the sunset is guaranteed to surprise you and you'd want to be there when everyone leaves to catch some exclusively breathtaking views..
Meander, eat & shop around downtown Shali, Central Siwa..
For me, a simple stroll, a mission of exploration, is crucial upon arrival to any new space and goes along way with how I feel navigating later during my trip. That being said, it's also perfect for just getting to know the area, meeting people and making conversation…
You can also watch the sunrise from atop the old Shali Fortress, and definitely have to shop the infamous and Siwan-unique hand-embroidered wool rugs, bags & accessories.
Siwa's also known for its remarkable dates, olives, jams and syrups, and you wouldn't want to miss out on those either. Also among the list are herbs and teas, and the famed lamps and crafts made up of only salt extracted from Siwa's own salt lakes, carrying healing and stress-reducing powers (more on that below!)
Also be sure not to miss out on Abdo's feteer, home to an extensive – and deliciously so – range of both sweet and savory pastries, and just ask around for him at the Siwa Market Square, bon appetite, aaand you can thank me later!
Bathe in Siwa's infamous naturally therapeutic Salt Lakes..
If anyone knows anything about Siwa, it's the Oasis' infamous Salt Lakes that bring thousands of visitors to Zeitun Lake yearly, and especially with Egypt's tourism on the rise. Compromised of more than 90% of salt, what doesn't swim, floats – so you need not worry if you can't (plus its only four meters deep).
Not only does the salinity of the lakes help you read a book floating on your back – and relax your whole being, which is actually therapeutic – but they're also known to have natural healing properties for the skin, sinus and eyes. This has essentially put Siwa under both the medical and recreational tourism umbrellas.
Fun fact: locals have long been bathing their children in the lakes for skin treatment and have put the extracted salt to use in countless ways, from building their homes to skin care products to crafting the Siwan-unique salt lamps that are known to emit warmth, healing and positive energies and when mixed with essential oils, natural aromas that would bring Siwa's earthy purity into your homes.
Go for a dip in the turquoise Cleopatra Spring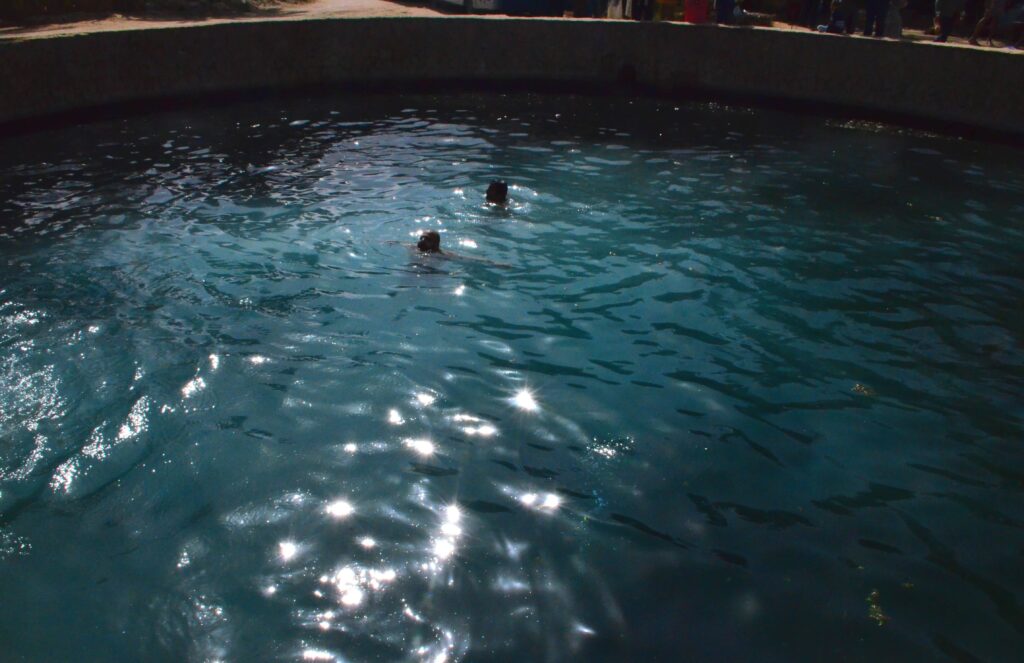 One of Siwa's (and Egypt's) most popular landmarks, Cleopatra's Spring (also referred to as her Bath/Pool) is a must-visit during your trip to the oasis.
The turquoise waters gurgling up into a large stone pool gives way for cafeterias to welcome visitors with fresh juices after their swim.

This warm, muscle-relaxing spring can be found on the path to the Temple of the Oracle – where it's believed to have been bestowed upon Alexander the Great, declaring him son of Amun.
The 26th-dynasty temple, built in the 6th century BC sits on the ruins of the Aghurmi village, also another stop you should check out.
Get a whiff of the land's history at the Mountain of the Dead..
What you think is what you get – t's exactly what it's named after.
A small hill housing a bunch of terraced tombs down the side of the mountain that date back to the 26th dynasty Greco-Roman period, with well-preserved colorful wall paintings (and on the tombs too) covering the interior of the rock-tomb honeycomb.
Interesting fact: the tombs served as shelter for Siwans at the time of the Italian attack during WWII.
Go on a two wheeled adventure of your own, off the beaten track..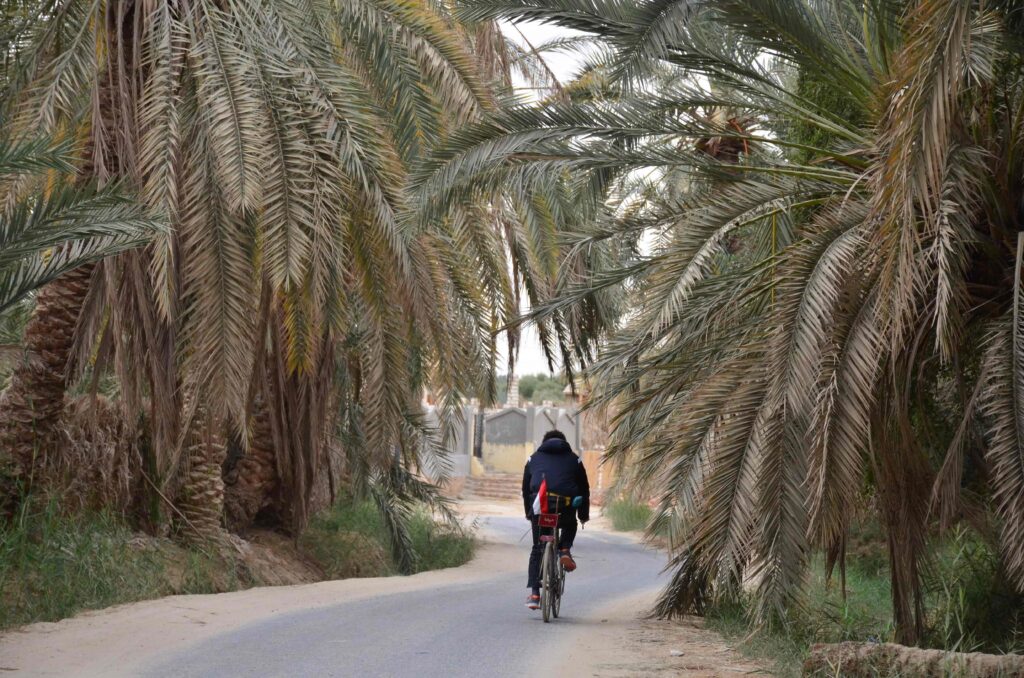 As much as I love basking in the – unfathomably – remarkable sunset views at the best recommended and *Insert Renowned Travel Site Here* award-winning spots, I always try my best to balance it out with a walk down some quiet side street, accepting a kind local's offer for tea and having a good conversation, or in this case, a bike ride beyond Downtown Shali.
Not only did that bike ride take me into the locals' villages and lives, but everyone was so nice they invited me into their homes too.
Visit Adrare Amlaal where you can hear yourself think – for once.
Not only is it hand-built entirely using mud and salt, this five-million-star eco-lodge is edged into the side of a mountain with a private stretch of beach to a lake houses 40 unique rooms, and there is no electricity. No electricity. The rooms, furnished entirely using natural material and the products of local artisanship, are softly lit with a dozen beeswax candles each, making it a perfect destination for some peace and quiet – even if it's for a few hour visit.
Be sure not to miss out on these stops as well:
The Traditional Home of Siwa Museum
Tghaghyeen Island
Abu-Shrouf Natural Spring
Temple of the Oracle & Aghormy City Ruins
---
This disclaimer informs readers that the views, thoughts, and opinions expressed in the text belong solely to the author, and not necessarily to the author's employer, organization, committee or other group or individual. We take no liability for the accuracy of the information and cannot be held liable for any third-party claims or losses of any damages.
This disclaimer informs readers that the views, thoughts, and opinions expressed in the text belong solely to the author, and not necessarily to the author's employer, organization, committee or other group or individual. We take no liability for the accuracy of the information and cannot be held liable for any third-party claims or losses of any damages.